Halfway To The Sun
Available Formats
Tracks
Price
Buy
Download Album (

MP3

)
12 tracks

£

7.99

Download Album ()
12 tracks

£

7.99

CD Album
10 tracks

£

9.00
Description
Royal Treatment Plant - Halfway To The Sun
Following up their critically heralded 2008 debut album, Royal Treatment Plant
release their sophomore LP, Halfway to the Sun.

Produced by Premen Underhill (Klaxons, Jack Penate, Little Death) and recorded at Timber Street Studios in East London through late 2010 and early 2011, the album beautifully illustrates a sound that has seen the band compared to The Pixies, Ladyhawke and Sonic Youth. Timber Street Studios's produced a uniquely warm album, being a largely unknown space, the band were able to record a very organic sound with a rich analogue feel.

RTP break dusty, fuzzy riffs over melancholy, soulful vocals that plough through these soaring melodies. It's everything about the 90's grunge and lo-fi era that modern takes on the sound have left out; the energy, the raw excitement. The band retain an element of fun, reminding their listener that beneath the guitar hum, Royal Treatment Plant make incredible pop songs full of imagery and narrative. Their songs are stories, told to the clap of a drum.

Much has been said about Australian-born singer, guitarist (and preacher's daughter) Paula Steel - the effect her upbringing by Seventh Day Adventist Parents in Papua New Guinea has had on the cinematic approach to her songwriting, has raised an eyebrow with fans and the musical literati alike. It's now, however, that Royal Treatment Plant's story takes a turn. If debut album Hope is Not Enough was a smiling reflection on her past then the new album is a screaming
proclamation of the band's future; with confident and layered song-making, it's classic British rock, made by articulate, young musicians.
Reviews
"Cut above the rest indie rock here, resembling a splurge between Hope Sandoval and Built To Spill. The band's second album finds them in an empathetic and twinkling mood, although angular disco rockers like 'On A Friday' and 'Young & Brave' demonstrate their ability to uplift with strutting melodies"
Artrocker
"Stunning new album"
Rough Trade - Most Wanted Album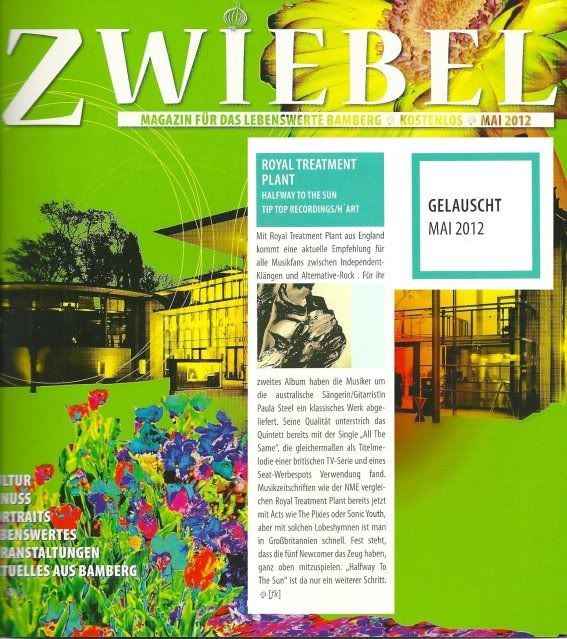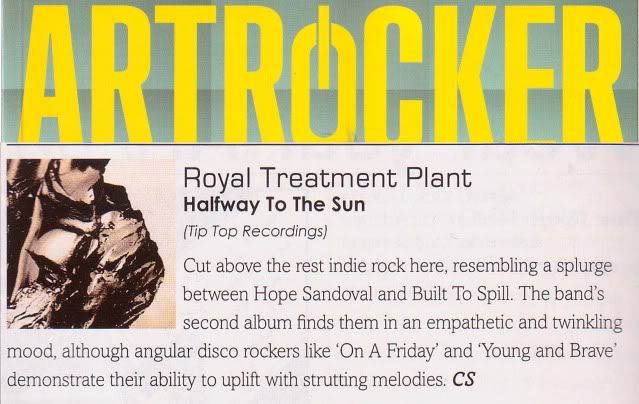 Tracklisting
Download Album (TIPT004)
CD Album (TIPT004)
Royal Treatment Plant

- Greenberg

Royal Treatment Plant

- Say it Like You Mean It

Royal Treatment Plant

- Showdown

Royal Treatment Plant

- Ways To Die

Royal Treatment Plant

- On A Friday

Royal Treatment Plant

- Young & Brave

Royal Treatment Plant

- Unravelling

Royal Treatment Plant

- Too Late

Royal Treatment Plant

- What A Shame

Royal Treatment Plant

- Black Feather